Aloe-Jojoba Conditioning Rinse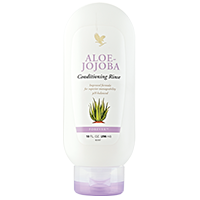 Item #

261
69.04 AED
Price per bottle - 10 fl. oz.
OUT OF STOCK
Forever Living Products Aloe-Jojoba Conditioning Rinse enriched formula with Vitamin B Complex and Hydrolyzed Protein has extra moisturizing power to leave your hair soft, shiny and manageable.

Designed to be used after our Aloe-Jojoba Shampoo, we have created an Aloe-Jojoba Conditioning Rinse that cares gently and effectively for your hair. The unique combination of stabilized aloe vera gel and jojoba, an agent to remove electrostatic charges, conditions the hair to give it a feeling of freshness and a look of silky elegance.

So give your hair that salon look and feel with the pH-balanced conditioning treatment of Aloe-Jojoba Conditioning Rinse!


pH-balanced

Improved formula for superior manageability

Extra moisturizing and conditioning power for soft, shiny hair

Coats the hair shaft to eliminate split ends


For more information on this product refer to the PDF downloads.
Aloe-Jojoba Conditioning Rinse