ALOE SUNSCREEN SPRAY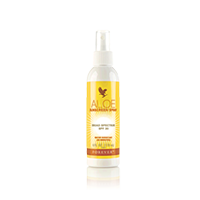 Healthy summer skin has never been easier! Aloe Sunscreen Spray has SPF 30 and Aloe Vera to protect your skin from the aging and damaging effects of the sun.
If you and your family enjoy an active lifestyle, then that means you should always be prepared. Keeping everyone happy will keep you on your toes – so when you're prepared to be in the sun, there's no need to worry.  
For more information on this product refer to the PDF downloads.
//gallery.foreverliving.com/gallery/FLP/download/products/2013_Product_Manual/319_Aloe_Spray_Sunscreen_ENG.pdf