Aloe Veterinary Formula™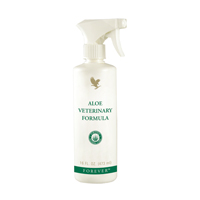 Item #

030
309.26 ZAR
473ml
When a family member suffers minor skin irritations, we reach for Aloe First™. Since we also treat our pets as part of the family, they too should experience the power of the "Miracle Plant." Forever Living Products has created Aloe Veterinary Formula™ – Mother Nature's first aid remedy for animals.

Aloe Veterinary Formula™ is made with stabilized Aloe Vera gel as its primary ingredient and is ideally suited for external skin problems. Allantoin, a naturally soothing substance, is the other main ingredient. The nozzle-control spray makes application to any size or type of pet easy. Aloe Veterinary Formula can provide quick and soothing relief.

• High concentration of Aloe Vera
• Multi-purpose product
• Can be helpful in dealing with minor skin problems
• Moisturizing action
• Easy nozzle spray application

DIRECTIONS
Cleanse with mild soap and water (or our Aloe Hand and Face Soap™ - code #038), and apply to areas where needed. For optimum results, apply several times a day.

WARNINGS
For external use only. Avoid contact with eyes and other sensitive areas.
For more information on this product refer to the PDF downloads.
AloeVeterinaryFormula.pdf