SONYA™ Aloe Eye Makeup Remover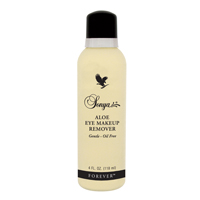 Item #

186
171.50 ZAR
118ml
This gentle, lightweight Aloe Vera gel formula works quickly and gently to remove eye makeup. Aloe Barbadensis Gel provides the caring, conditioning and soothing benefits that are perfect for the delicate eye area.

• Gently conditions and moisturizes eyelashes
• Leaves no residue – you may immediately apply eye makeup after use
• Unique, oil-free formulation
• Do your skin a favour: never go to bed with makeup on. Clean skin is healthy skin!

DIRECTIONS
Saturate a small cotton ball or swab with remover. Apply to closed eyes and gently wipe off makeup. Repeat if necessary.

For more information on this product refer to the PDF downloads.
SonyaAloeEyeMakeupRemover.pdf