SONYA™ Aloe Purifying Cleanser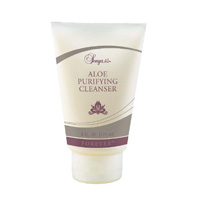 Item #

277
495.04 ZAR
177ml
The first step in the Sonya Skin Care regime, this remarkable cleanser with Aloe and fruit extracts is designed to gently remove makeup and debris without overdrying. SONYA™ Aloe Purifying Cleanser will leave your face feeling wonderfully soft, fresh and clean each time you cleanse. For best results, follow with SONYA™ Aloe Refreshing Toner and the other products in the SONYA™ Skin Care line.

• Contains Aloe and fruit extracts
• Gently removes makeup and debris
• Won't overdry skin

DIRECTIONS
Begin each morning and evening with SONYA™ Aloe Purifying Cleanser. Apply cleanser to fingertips, then rub fingertips of both hands together before applying cleanser to face and neck. Massage cleanser over face and neck to remove makeup and debris. Wipe off cleanser with cotton ball or pad, then rinse face and neck thoroughly with warm water.
For more information on this product refer to the PDF downloads.
SONYAAloePurifyingCleanser.pdf