Aloe Hand Soap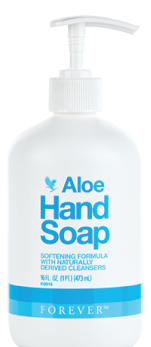 On average, people wash their hands around 8 times a day, and the global hygiene council recommends even more. While that can be a key to keeping you healthy, it can take a toll on your skin if your soap uses harsh surfactants and strips your hands of moisture. Thankfully, Forever Living has found a way to actually soften your hands while washing them. Our 100% Stabilized Aloe Vera gel and glycerin make a natural, soft base onto which we added some new and exciting ingredients.


We've taken your favorite pearlescent formula and improved it by adding cucumber fruit extract, lemon peel oil and olive oil to exponentially boost its moisturizing powers. Cucumber helps soothe the skin while lemon peel oil pulls double duty acting as an astringent and skin conditioning agent. Olive oil has long been heralded as an antioxidant, moisturizer and may assist in skin's rejuvenation.

A combination of natural oils, fruit extract and the best of science this Aloe Hand Soap with its mild chamomile scent is exactly what your skin wants and needs to be cleansed and conditioned.
For more information on this product refer to the PDF downloads
Aloe Hand Soap