Clean 9 (Vanilla)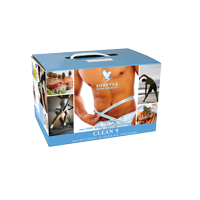 Item #

216
199.10 AUD
(Price shown Includes GST)
CLEAN 9  - VANILLA
The first step to a clean body is to control your intake of harmful preservatives and other chemicals. Clean 9 provides you with the necessary tools to cleanse and rid your body of these substances and put you on the path to a healthier you.
In the Clean 9 pack, you will find:


3 Aloe Vera Gel

1 Forever Lite Ultra with Aminotein - Vanilla

1 Forever Arctic Sea

1 Forever Bee Pollen

1 Forever Shaker

1 Tape Measure

1 Clean 9 instruction booklet
*Please note that Forever Bee Pollen is not available in Western Australia. This item will be replaced with Forever Aloe Blossom Tea in all Clean 9 kits shipped to Western Australia.