ALOE HAND SOAP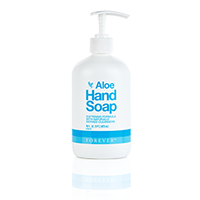 Item #

523
22.00 AUD
(Price shown Includes GST)
 A combination of natural oils, fruit extract and the best of science with its mild chamomile scent is exactly what your skin wants and needs to be cleansed and conditioned. 

Aloe Hand Soap is infused with cucumber fruit extract, lemon peel oil and olive oil to exponentially boost its moisturizing powers.
For more information on this product refer to the PDF downloads.
Click Here to Download