F15 - VANILLA  (Call Office for details)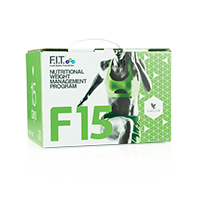 Item #

528
216.26 AUD
(Price shown Includes GST)
Take the next step to looking and feeling better. It doesn't matter if you are just getting started, or if you're already an expert, the F15 provides beginner, intermediate and advanced nutrition and exercise programmes to help you on your fitness and weight management journey. Each fifteen-day programme has been specially designed to provide you with the knowledge that you need to get inspired, help you make permanent changes toward a healthier lifestyle, and continue in your transformation.  

Each F15 pack contains:
2x Aloe Vera Gel 1Ltr bottle
1x Forever Lite Ultra (Chocolate or Vanilla)
15x Sachets of Forever Fiber
70x Tablets of Garcinia Plus
60x Tablets of Forever Therm

For comprehensive instructions use the step-by-step F15 booklet provided in this pack.