CLEAN 9 PACK - VANILLA LITE ULTRA (Call Office for details)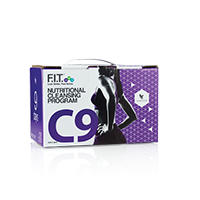 Item #

547
209.00 AUD
(Price shown Includes GST)
Look better and feel great with the expertly-devised, calorie-controlled diet and exercise program. The C9 provides the perfect starting point for transforming your diet and fitness habits. Based around Forever's bestselling Forever Aloe Vera Gel, this nutritionally-balanced program will allow you to see real results in just nine days!


Your C9 pack includes:
Aloe Vera Gel® – 2X – 1 litre bottles
Forever Lite Ultra Shake® – 1 pouch Vanilla
Forever Therm™ – 60 tablets
Forever Fiber™ – 9 sticks
Forever Garcinia Plus® – 70 tablets

For best results, please follow the step-by-step booklet included within your C9 pack.