Forever Freedom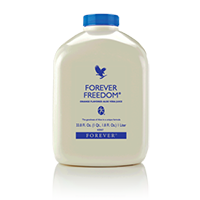 Item #

196
41,49 EUR
Content: 1 liter
Forever Freedom is a perfect addition to your sportive lifestyle.
Aloe Vera contributes to our body's natural defense system * and this drink contains a high amount of 89% pure aloe vera gel from this plant. 
Beside all other advantages of the Aloe Vera Gel, Forever Freedom contains a high amount of Vitamin C, which contributes to maintaining healthy cartilage. This makes it a great addition to your daily nutrition and the ideal drink for sporters and everyone of age who wants to remain active. It has a pleasant orange taste. Forever Freedom contains a perfect combination of glucosamine, chondroitin and MSM. 
Contains the following allergens: traces of shrimp, shellfish, crab and lobster. 
*healthclaim pending European admission.
Ingredients:
Stabilized Aloe Vera Inner Leaf Gel, Sorbitol, Natural Orange Juice Concentrate (Flavor), Asorbic Acid, Citric Acid, ptassium Sorbate (to help protect flavor), Sodium Benzoate (to help protect flavor), Tocopherol. 

Please note: contains the following  allergens: traces of shelfish, shrimp, crab and lobster   
Gluten-free