Forever Hand Sanitizer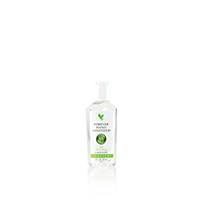 Item #

318
4,60 EUR
Content: 59 ml
OUT OF STOCK
Maximum order quantity is 5 pieces.

Your hands come into contact with bacteria on a daily basis. It is important, therefore, to maintain a good hygene of the hands whilst looking after them, in order to prevent  the spread of bacteria. Forever Hand Sanitizer offers the perfect way to disinfect your hands when you are out and about, on holiday or when taking care of your baby. Contains moisture regulating ingredients and has a fresh scent of citrus and lavender.

Ingredients:
Alcohol Denat.,Aqua, Aloe Barbadensis Leaf Juice (Stabilized* Aloe Vera Gel), Mel, Isopropyl Alcohol, Glycerin, Tetrahydroxypropyl Ethylenediamine, Acrylates/C10-30 Alkyl Acrylate Crosspolymer, Tocopheryl Acetate, Isopropyl Myristate, Cirtic Acid, Parfum, Citral, Hexyl Cinnamal, Coumarin, Limonene, Geraniol, Linalool, Potassium Sorbate, Sodium Benzoate.