Sonya® Aloe Refreshing Toner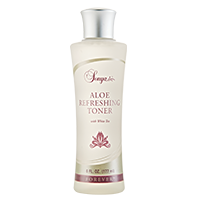 Item #

279
13.33 BHD
Price per bottle - 6 Fl. Oz.
Sonya® Aloe Refreshing Toner with white tea extract provides vital moisture to help keep your skin properly hydrated. This alcohol-free toner is as refreshing as it is hydrating. Applied after cleansing with Sonya® Aloe Purifying Cleanser, your skin will instantly absorb the nourishing properties of stabilized aloe vera gel, white tea extract, and cucumber.


Contains white tea extract

Alcohol-free

Refreshes and hydrates

For more information on this product refer to the PDF downloads.
Sonya® Aloe Refreshing Toner