Forever Aloe MPD® 2X Ultra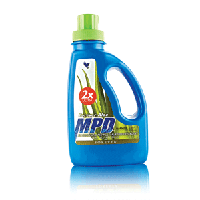 Item #

307
28.02 CAD
Price per bottle - 32 fl. oz.
Coming Soon!
Every week we use multiple detergents for cleaning. Wouldn't it be nice to buy just one multi-purpose product for the laundry, dishes, floor, and even the bathroom? Forever Living Products has introduced such a product – a liquid detergent that is highly effective and very economical to use.

Forever Aloe MPD® is a multi-purpose, liquid concentrated detergent created by FLP - and we've just made it better than ever! Our 2X Ultra formula is even more concentrated to take your cleaning that much further. A versatile cleaning product that is ideal for laundry (all types of clothes), it is also a household cleaner for floors, bathrooms, tile and carpet cleaning, and for hand-washing dishes. This safe, concentrated, liquid detergent is great for lifting grime, cutting through grease and removing stains without scratching or marking any surfaces. It is versatile enough to do the job of many similar products on the market, with a major cost savings for the user.

Forever Aloe MPD® 2X Ultra is phosphorus-free, making it environmentally friendly. Unlike many detergents, its anionic and non-ionic surfactants are biodegradable, thus reducing environmental and water pollution. Our non-abrasive formula contains mild aloe vera to soften and condition your hands and clothes. This revolutionary, multi-purpose cleaner is available only through Forever Living Products.

DIRECTIONS:

Laundry (for normal washer loads): Use 1/2 ounce (15 ml). For stain removal, place a small amount directly on the spot, add water and soak before washing. When pre-treating, rub a small amount directly onto the stain before washing. Always test an inside seam for colorfastness.

Multipurpose: Dilute using 1 ounce (30 ml) per 1 gallon (3.78L) of water to clean: Appliances, floors, bathrooms, tile, carpet and cars inside and out.

Household: Gentle on the hands, just a couple drops on a sponge or dishcloth gets dishes squeaky clean, removes carpet stains and more. (Not recommended for use in automatic diswashers)

Lessive: Pour des charges de lessiveuses normales: Utiliser ½ once (15 mL). Pour enlever les taches, mettre une petite quantité sur la tache, ajouter de l'eau et faire tremper avant de laver. Pour prétraiter, frotter une légère quantité sur la tache avant de laver. Vérifier la solidité des couleurs en faisant un test sur une couture intérieure.

Usages multiples: Diluer 1 once (30 mL) par gallon (3,78 L) d'eau pour nettoyer: appareils ménagers, planchers, salles de bains, carrelages, tapis et l'intérieur ou l'extérieur des autos.

Ménage: Doux pour les mains, deux gouttes sur l'éponge ou sur la lavette suffisent pour avoir une vaisselle parfaitement propre, détacher les tapis, etc. (n'est pas recommandée dans les lave-vaisselles.)


Multi-purpose, 2X concentrated cleaner
Phosphorus-free
Environmentally-friendly, biodegradable ingredients
Mild, gentle formula is kind to hands and clothes
Note: Not for use in automatic dishwashers



For more information on this product refer to the PDF downloads.
Forever Aloe MPD® 2X Ultra