Forever CardioHealth™ with CoQ10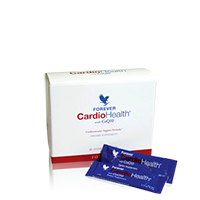 Item #

312C
37.63 CAD
Price per unit – 30 packets
Coming Soon!
Forever CardioHealth™ with CoQ10 is a special formula designed to mix with in our Aloe Vera Gel to provide three important nutritional supports for cardiovascular health. It supports healthy homocysteine levels, supplies co-enzyme Q10to promote efficient metabolism, and provides heart-healthy antioxidants. Simply pour, stir and drink – it's that easy – and your heart will thank you! Contains soy. 30 individually foil wrapped packets.


These statements have not been evaluated by the Food and Drug Administration. These products are not intended to diagnose, treat, cure, or prevent any disease.


For more information on this product refer to the PDF downloads.
Forever Cardio Health™