Infinite Firming Serum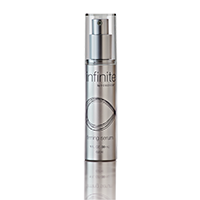 Item #

555
56.52 EUR
30ml
Firming Serum targets the signs of ageing with a clinically proven three-amino acid peptide that complements the natural process of skin to increase firmness and to reduce the appearance of fine lines and wrinkles. Paired with powerful natural ingredients and our patented aloe, Firming Serum is a rich moisturiser that makes skin feel smooth and firm, and your complexion appear visibly younger.
Suggested use
Pump once and apply in quick but gentle sweeping motions over the entire face. For best results, apply an additional pump to the neck area, sweeping upwards towards the chin.
Ingredients
Aloe Barbadensis Leaf Juice, Aqua, Butylene Glycol, Glycerin, 1,2-Hexanediol, Yeast Extract, Sodium Hyaluronate, Hydrolyzed Sodium Hyaluronate, Arginine, Tripeptide-1, Trifluoroacetyl Tripeptide-2, Caprooyl Tetrapeptide-3, Whey Protein, Lactic Acid, Lactose, Hydrogenated Starch Hydrolysate, Caprylyl Glycol, Ethylhexylglycerin, Caprylhydroxamic Acid, Dextran, Ascorbic Acid, Propanediol, Citric Acid, Hydroxyethylcellulose, Disodium Phosphate, Polysorbate 60, Potassium Sorbate, Sodium Benzoate

For more information on this product refer to the PDF downloads.
Download the English PDF