Forever Active Pro-B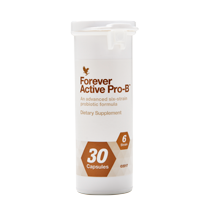 Item #

610
35.21 EUR
30 capsules
Supports a settled stomach;
A great addition to a healthy lifestyle;
Contains 6 bacterial strains, including Lactobacillus rhamnosus;
8 billion CFU (Colony Forming Units) per capsule;
The bacterial strains are protected for optimal functionality and stability;
Vegetarian;
Soya free;
No allergens.
Forever Active Pro-B is suitable for daily use and is a great addition to a healthy, varied diet and active lifestyle.
The exclusive mix of strains (8 billion) consists of:
Bifidobacterium lactis (5.2 billion)
Lactobacillus rhamnosus (1.15 billion)
Lactobacillus reuteri (580 million)
Lactobacillus acidophilus (580 million)
Bifidobacterium longum (200 million)
Bifidobacterium bifidum (290 million)
Extra protection
Protection of the capsules is very important. That is why, Forever Active Pro-B capsules are packaged in a unique bottle. This innovative packaging makes use of ActivVial Technology. The casing, inside the bottle, provides extra protection from moisture or other external effects, whilst also promoting the capsules shelf life. The handy click-system also makes it easy to dispense the desired amount.
Make the sure the packaging is properly closed and store the bottle in a cool, dry place.

Ingredients
Corn dextrin, hydroxypropyl methylcellulose, fructooligosaccharides, B. lactis, L. rhamnosus, L. reuteri, magnesium stearate, silicon dioxide, L. acidophilus, B. longum, B. bifidum and titanium dioxide.
For more information on this product refer to the PDF downloads.
Μore Information-Ingredients