New_

Forever iVision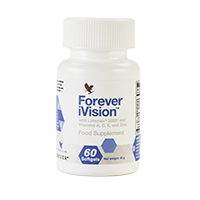 Item #

624
33.63 EUR
 60 soft capsules
Mobile phones, computers, tablets and television…. We spend many hours watching screens during the day. Because of today's digital age it is more important than ever to take care of your eyes.
Eating healthy is the first step. Add Forever iVision to your dialy diet. It contains the exclusive ingredient Lutemax 2020® and is high in provitamin A, vitamin C and E and Zinc. Our eyes work harder than ever before. Forever iVision is developed for today's digital age. 
•

Lutemax 2020® contains lutein, zeaxanthin and meso-zeaxanthin. These are carotenoids and have the function of antioxidant. 
o

Support vision, also in the dark
•

Vitamin C and vitamin E help protect cells from oxidative stress
Sunflower oil, fish gelatin, humectant (glycerol), Lutemax® 2020 -marigold flower (Tagetes erecta) extract (lutein and zeaxanthin), vitamin C (ascorbic acid), vitamin E [d-alpha-tocopherol, soybean oil], stabiliser (beeswax), water, bilberry fruit (Vaccinium myrtillus) extract, carrot (Daucus carota subsp. sativus) seed oil [carrot seed oil, canola oil, sunflower seed oil], zinc (zinc oxide), black carrot (Daucus carota subsp. sativus) juice, vitamin A (beta carotene)
•

Not suitable for vegetarians and vegans
Take two softgels daily in water.
Keep out of reach of young children.
Do not exceed the stated recommended daily intake. 
A food supplement is not a substitute for a varied, balanced diet and a healthy lifestyle.
Store tightly closed in a cool, dry place.  Avoid excessive heat and light exposure.  
Forever Direct EU, 4751 XJ Oud Gastel, NL
For more information on this product refer to the PDF downloads.
Greek Product Information