Aloe First®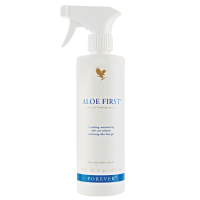 Item #

040
28,55 EUR
473 ml.
Aloe First is an excellent addition to any first aid kit. This exclusive skin protection formula provides a first line of defense against minor skin irritations. Formulated in a base of stabilized aloe vera gel, Aloe First contains Bee Propolis, Allantoin and eleven exclusive plant extracts:


• Bee Propolis increases the natural skin-soothing and protecting properties of the aloe vera gel.
• Allantoin is a skin protective ingredient found in many plants, including aloe.
• Eleven carefully selected plant extracts, also known for their beneficial properties, complete this powerful formula.


The combination of aloe and herbs provide a naturally soothing, pH-balanced spray that is easy to apply to even sensitive skin. Aloe First is designed to soothe the skin after minor cuts, scrapes, burns, and sunburn.


Other uses for Aloe First include spraying on hair as protection against the elements. It is even used in some hair salons as a pre-perm solution, as it helps to protect against the drying effects of perming solutions. Aloe First is especially soothing after waxing.


• Every first-aid kit should have one
• Soothes minor skin irritations
• Protects hair from environmental and chlorine damage
• Pre-perming solution
• Soothing after-wax treatments



For more information on this product refer to the PDF downloads.
AloeFirst_ver.5final_1.pdf