Aloe Heat Lotion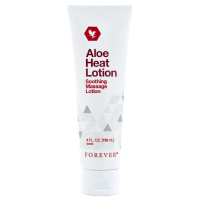 Item #

064
20,85 EUR
118 ml.
After a long, active day, we all know the misery of tired, aching muscles. Now you can stretch no further than to grab a tube of Aloe Heat Lotion!


This emollient, oil-in-water lotion contains warming agents to make it the ideal massage companion for tired, strained muscles and dry skin. Aloe Heat Lotion is a pH-balanced, lubricating lotion designed for a soothing, relaxing massage. The deep penetrating power of Aloe Vera will help bring your aching muscles fast relief due to stress and tension, or after sports or that extra hard workout!


• Soothing relief after sports or working out
• Suitable for children and adults
• An ideal massage lotion



For more information on this product refer to the PDF downloads.
AloeHeatLotion_ver.5final_1.pdf