SONYA DAILY SKINCARE SYSTEM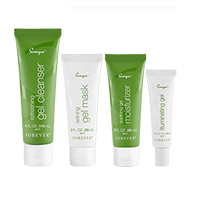 Latest technology applied on gel-based products
- With high concentration of aloe vera and other botanical products
- For mixed skin
- Soft and suitable for all ages
We present a new line of daily care. It includes:
refreshing gel cleanser
illuminating gel
refining gel mask
soothing gel moisturizer
These are some of the incredible benefits you will find in each product to improve the skin
(For more information on each of the products and their ingredients, see the pages
of the manual of each individual product):
- refreshing gel cleanser has apple amino acids for a soft foam that does not leave the skin
tight.
- refining gel mask is a night mask that acts while you sleep to balance the brightness
(fat), improve the tone and moisturize the skin.
- soothing gel moisturizer provides 10 plants and botanical extracts, as well as collagen that leaves the skin
moisturized and hydrated.
- illuminating gel clarifies the appearance of the skin giving it a more radiant appearance.
Formulated especially for mixed skins that can vary a lot, this multifunctional kit does not only
It can control the brightness (fat), but also moisturizes where it is needed most. This innovative
Low molecular weight gel technology helps the absorption of active ingredients right where the
More skin needs them.
For more information on this product refer to the PDF downloads.
+ info