Forever Bio-Cellulose Mask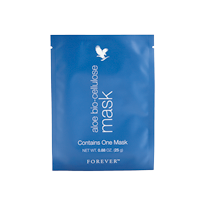 Item #

616
66,79 EUR
 5 units per box
OUT OF STOCK
- Complete your skin with a deep hydration
- Rejuvenates dull skin to help fight the signs of aging
- Soothes the skin and reduces redness
- Leaves skin soft and supple for a complexion that shines with its own light
The mask, with the most advanced technology of Forever, provides a total hydration that is absorbed even more in the deeper layers of the skin, in a matter of seconds and without rinsing. We have taken the ease of use and the efficiency of the biocellulose and we have strengthened it with the latest generation technology of the dual-phase system. The fibers of the mask are 1,000 times thinner than human hair, which allows the cellulose aloe mask to be easily attached to each face. This allows the ingredients of the mask to penetrate deeply, even in the fine lines and wrinkles, places where traditional masks can not reach.
The masks of traditional sheets do not cover the entire skin. But aloe bio-cellulose mask does and thanks to the dual-phase system. Through an exclusive Forever process, a special bacterium creates biocellulose, feeds with Aloe vera gel from Forever - which has been cultivated under special conditions unique to this product - and marine deposits, fusing them directly into the material of the mask to moisturize, soften and condition the skin.
In addition, a serum enriched with green tea and horse chestnut rejuvenates the dull skin, helps fight free radicals to help fight the signs of aging and relieves redness.
It's amazing everything a single mask can do for you. Aloe bio-cellulose mask is easy to use and does not need rinsing. Simply massage the remaining serum on the face and neck. Thanks to biocellulose, the serum is able to penetrate deeper than traditional masks, making you feel the power of hydration even much later than its use.
For more information on this product refer to the PDF downloads.
+ info