Sunscreen Lotion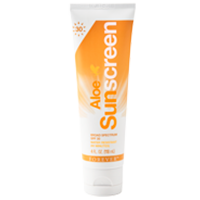 Broad spectrum protection with aloe vera that also prevents dehydration, removing the
moisture, and able to soothe the skin
• SPF 30 protection against UVA and UVB radiation.
• With zinc oxide as a natural sunscreen, which provides superior protection
• Calm, moisturizes and protects the skin
• Water resistant for 80 minutes
Make the most of the beach without letting the effects of solar radiation damage your skin. Where are you?
be, waxing the surfboard or taking a walk in the park, Aloe Sunscreen will protect
The whole family at any time.
With Aloe Sunscreen, you can go anywhere the sun shines, thanks to the broad protection
SPF 30 spectrum that protects the skin against UVA and UVB rays. UVA rays make up 95% of the
radiation that reaches the Earth. These rays penetrate the deeper layers of the skin and are the
main causes of premature aging and the appearance of wrinkles.
UVB radiation is more damaging to the outermost layers of the skin and are responsible for the
redness and sunburn. The effects of these rays are even more damaging when
amplified by altitude, reflective surfaces, snow and ice, in some cases doubling the
exposition.
Aloe Sunscreen contains an innovative formula that includes natural zinc oxide, without nanoscale, with
an advanced coating technology. Easy to apply, and offering a sunscreen
superior and it is applied without leaving a greasy sensation or leaving residues.
But it's not just the advanced technology for blocking solar radiation that makes Aloe
Sunscreen such a powerful product. Pure aloe vera from Forever's plantations nourishes, retains the
moisture and calm the skin. Only the inner gel of aloe vera leaf of the highest quality is used to
Comfort and defend the skin. We have further increased the protection of the skin with vitamin E, which
Combats free radical damage, softens and penetrates deeper for greater
hydration.
Aloe Sunscreen is water resistant for 80 minutes. Get full protection by applying
generously and regularly when you expose yourself to the sun. If you're climbing to the top of a
mountain or enjoying a relaxing meal outdoors during the weekend, make sure that
can give you the sun, with confidence, knowing that the power of Aloe Sunscreen protects the whole family.