ALOE VERA GEL-330ML 12/PK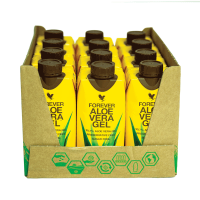 - 99.7% pure aloe vera gel
- Without preservatives
- Source of vitamin C
- Contributes to the maintenance of energy levels
- Help to normalize digestions
- Contributes to a healthy immune system
- It favors the absorption of nutrients
- Practical container easy to transport
- No added sugars
- Without preservatives
Imagine cutting an aloe vera leaf and eating the gel directly from the plant. Forever Aloe Vera Gel® is the closest thing to this real situation that you can experience!
Aloe vera can have natural properties that help the digestive tract absorb nutrients from the food we eat in the bloodstream, while providing what is necessary for the maintenance of good bacteria in the digestive system. It contains a polysaccharide, acemannan, and other unique nutrients that help support the immune system.
Acemannan is one of the key markers used by the IASC to indicate the quality of aloe vera and Forever Aloe Vera Gel® has almost double the amount required for certification!
Forever Aloe Vera Gel® is aseptically packaged, which allows the formula does not need preservatives and we can therefore proudly say that it contains pure aloe vera gel in a concentration of 99.7%. Packed in Tetra Pak, with 100% recyclable materials, Forever Aloe Vera Gel® ensures the enjoyment of the fresh taste of pure aloe vera gel with all the properties and benefits of aloe, just as you find it growing in nature.
Three Aloe vera minis equals a large container and you can buy it in a pack of 12.