TRIPACK PEACH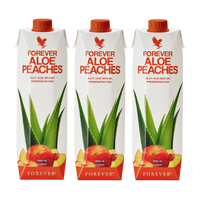 - 84.5% pure aloe vera gel
- Without preservatives
- Supports healthy digestion
- Promotes a healthy immune system
- With peaches ripened in the sun for improved nutrition and flavor
- Helps maintain energy levels
Improve digestions and delight your taste buds with the pleasant taste of peaches and the benefits of aloe in a unique combination.
Aloe vera has the ability to clean naturally, helping the digestive tract to better absorb nutrients from the food we eat in the bloodstream, while promoting the growth of good bacteria in the digestive system. Polysaccharides, such as acemannan and other nutrients unique to aloe that help activate and support the immune system.
The stabilized aloe vera gel is 84.5%, combined with a juicy peach puree rich in calcium, resulting in a healthy drink with a sweet taste and the full power of pure aloe vera.
Forever Aloe Peaches® is aseptically packaged, which allows the formula to not require the addition of preservatives, in Tetra Pak containers designed with 100% recyclable materials to ensure you can enjoy the fresh taste of undiluted aloe vera gel, with all the powerful properties of aloe as nature provides.