Tri-Pack Aloe Berry Nectar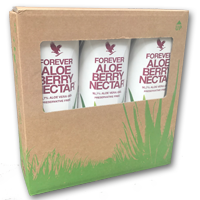 Item #

7343
100.50 EUR
3 x 1 lt
Aloe vera gel with the taste sensation of cranberry and apple in a tri-pak(3x1lt).
    ◗ 90.7% pure inner leaf aloe vera gel
    ◗ Without preservatives
    ◗ Rich in vitamin C
    ◗ An excellent addition to a healthy diet
    ◗ Gluten free
    ◗ Fruity taste of cranberry and apple
Forever Aloe Berry Nectar contains 90.7% pure aloe vera gel from the inner leaf of the aloe vera plant and is rich in vitamin C. The fruity addition of cranberry and apple gives aloe vera gel a surprising twist! Forever Aloe Berry Nectar is an ideal addition to a balanced and healthy diet.
Enjoy this fruity aloe drink daily and benefit from all the valuable properties of aloe vera and vitamin C. Exactly as nature intended.Forever goes for a pure product. To guarantee quality, our aloe vera gel is processed immediately after the harvest. The gel is packaged in Tetra Pak packaging made with 100% recyclable materials.

The aloe vera gel comes from our own plantations in Texas and the Dominican Republic.
 
Usage:
Twice daily 60 ml or three times daily 40 ml.
Ingredients:
Stabilized Aloe Vera Inner Leaf Gel [(90,7% Aloe Vera Inner Leaf Gel, ascorbic acid and citric acid)], natural apple juice concentrate (flavor), fructose, natural cranberry concentrate (flavor).

Extra Tip: Use the box by packaging your magazines or books and decorate your office.
For more information on this product refer to the PDF downloads below. 
More Info-Incredients PDF file