F15 Advanced 1 & 2 - Vanilla Lite Ultra FR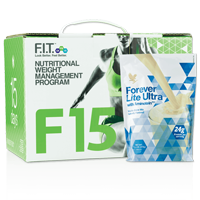 Produktnummer

538
157,45 EUR
Take the next step with F15 on your way to look and feel better. Whether you have only just started taking more exercise and eating more healthily or are quite experienced  in this field: F15 has the right level on offer for anyone. Are you an experienced sports person and already well-informed about healthy eating, F15 ADVANCED is for you.

For whom:
For those who are ready for the next step after completion of F15 INTERMEDIATE and for people who already lead an active life and are looking for an advanced programme to help them reach their goals. This programma is aimed at increasing your muscle strength by using targeted exercise and advanced cardio training. The brochure contains an exercise table, more in-depth information and tips on nutrition and healthy living. You will also gain more insight into how to attune the way you eat and exercise to your body type. 

F15 contains (for 15 days):
Forever Aloe Vera Gel™ (2 x 1 litre)
Forever Lite Ultra Vanilla™ (15 meals) 
Forever Therm™ (15 tablets)
Forever Lean™ (60 capsules)
Forever Fiber™ (15 sticks)
F15 Advanced brochure

Please Note: If you are using any kind of medication at this moment or undergoing medical treatment, e.g. if you are diabetic or suffer from a heart condition, we advise you to see a doctor before embarking on any exercise programme with or without food supplements. Forever F.I.T. (C9, F15, Vital5) is not suitable for women who are pregnant, trying to conceive or are breastfeeding.