infinite by Forever - firming complex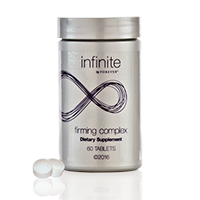 Produktnummer

556
53,35 EUR
Inhalt: 60 Tabletten

Firming Complex is an exclusive beauty supplement aimed at reducing the effects of aging on the skin from the inside. The tablets contain a good mix of French melon concentrate, phytoceramides (wheat lipid extract) and marine collagen. It reduces the visibility of wrinkles and stimulates hydration and the flexibility of the skin. Powerful phytoceramides complement the ceramides present in the skin naturally. Ceramides support hydration, for a radiant and young looking skin. Firming complex is gluten free.

Use: Take two tablets per day. For best results take in the morning.
Allergens: fish and wheat.

A nutritional supplement is no substitute for a balanced diet and a healthy lifestyle.


Preview Edition >>
click here