C9 Gel Vanilla FR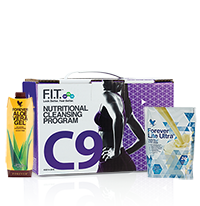 During C9 you follow an effective diet and exercise plan, you use the supplement package and lean recipes. You learn to change patterns and lay a good foundation with which you can then continue to work in a well-founded way. 

C9 contains a nice package of quality products that you combine with our Forever Aloe Vera Drink. The C9 products are accurately matched and help you reach your goals. Follow the steps in your program booklet and use the advice and practical tips that you can apply immediately.

Forever C9 contains:
• Forever Aloe Vera Gel (2x 1 L)
• Forever Lite Ultra Vanilla (15 servings)
• Forever Lean (36 capsules)
• Forever Therm (9 tablets)
• Forever Fiber (9 sticks)
• Measuring tape
• C9 Workbook (FR)
• Forever Shaker

Please Note: If you are using any kind of medication at this moment or undergoing medical treatment, e.g. if you are diabetic or suffer from a heart condition, we advise you to see a doctor before embarking on any exercise programme with or without food supplements. Forever F.I.T. (C9, F15, Vital5) is not suitable for women who are pregnant, trying to conceive or are breastfeeding.