Forever Aloe Peaches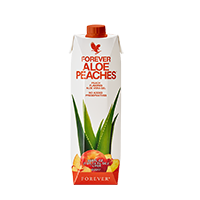 Item #

777
29,28 EUR
Content: 1 liter
Aloe vera gel with a sunny peach flavor.
84.3% pure inner leaf aloe vera gel
Without preservatives
Rich in vitamin C
An excellent addition to a healthy diet
Gluten free
Sunny taste of peach
Forever Aloe Peaches contains 84.3% pure aloe vera gel from the inner leaf of the aloe vera plant and is rich in vitamin C. The delicious taste of peach gives aloe vera gel a summer twist! Forever Aloe Peaches is an ideal addition to a balanced and healthy diet.
Enjoy this sunny aloe drink every day and enjoy all the valuable properties of aloe vera and vitamin C. Just as nature intended.
Forever goes for a pure product. To guarantee quality, our aloe vera gel is processed immediately after the harvest. The gel is packaged in Tetra Pak packaging made with 100% recyclable materials.
The aloe vera gel comes from our own plantations in Texas and the Dominican Republic.
Usage:
Twice daily 60 ml or three times daily 40 ml.
Ingredients:
Stabilized Aloe Vera Inner Leaf Gel [84,3% Aloe Vera Inner Leaf Gel, Ascorbic Acid and Citric Acid], Natural Peach Puree 8% (flavor), Fructose, Natural White Grape Juice Concentrate (flavor), Natural Peach Flavor.