Aloe First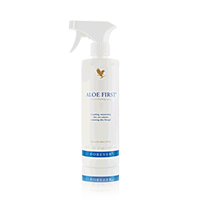 Item #

40
26,14 EUR
Content: 473 ml
Maximum order quantity is 5 pieces.

The basic ingredient of Aloe First is stabilised aloe vera gel. The added propolis and vegetal extracts such as camomile, milfoil and marigold have a soothing effect on the skin. It is especially suited to those more sensitive parts of the skin, in particular when over-exposed to the sun. This product is also an effective after-sun moisturising spray.

Ingredients:
Aloe Barbadensis Leaf Juice (Stabilized* Aloe Vera Gel), Aqua, Tocopherol, Glycine Soja Oil, Allantoin, Glycerin, Borago O cinalis Extract, Chamomilla Recutita Flower Extract, Taraxacum O cinale Extract, Eucalyptus Globulus Leaf Extract, Zingiber O cinale Root Extract, Calendula O cinales Flower Extract, Passi ora Incarnata Flower Extract, Salvia O cinalis Leaf Extract, Pterocarpus Santalinus Wood Extract, Thymus Vulgaris Leaf Extract, Achillea Millefolium Extract, Ceratonia Siliqua Fruit Extract, Propolis Cera, Polysorbate 20, Ascorbic Acid, Sodium Citrate, Potassium Sorbate, Sodium Benzoate, Citric Acid, Diazolodinyl Urea, Methylparaben.