Forever Travelkit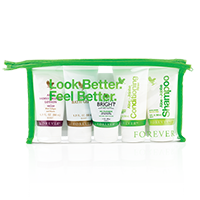 NB. the content of the travelkit has changed!

Take a little bit of Forever with you whenever and wherever you travel! 5 products packaged in a convenient container and airline approved.
The Forever Travel Kit includes: 
- 1x Aloe Moisturizing Lotion (50 ml) 
- 2x Aloe-Jojoba Shampoo (50 ml) 
- 1x Aloe-Jojoba Conditioning Rinse (50 ml) 
- 2x Forever Bright Toothgel (30 gr.) 
Forever travels with you!