F15 Intermediate 1 & 2 - Chocolate Lite Ultra NL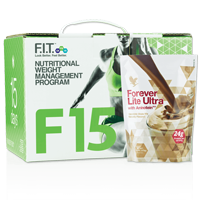 F15 offers a personalized approach to looking better and feeling better.
Already moderately active? Jump ahead to F15 Intermediate 1 & 2 to continue what you're doing and complement your lifestyle!
F15 contains for 15 days:
Forever Aloe Vera Gel™ (2 x 1 liter)
Forever Lite Ultra™ Chocolate (15 meals) 
Forever Therm™ (30 tablets)
Forever Garcinia Plus™ (90 softgels)
Forever Fiber™ (15 sticks)
F15 brochure Intermediate

Please Note: If you are using any kind of medication at this moment or undergoing medical treatment, e.g. if you are diabetic or suffer from a heart condition, we advise you to see a doctor before embarking on any exercise programme with or without food supplements. Forever F.I.T. (C9, F15, Vital5) is not suitable for women who are pregnant, trying to conceive or are breastfeeding.