Vital5 Box Forever Aloe Peaches NL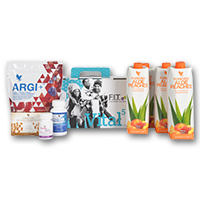 Vital 5 offers 5 key products which together form the basis for a full and active life. When combined, these five key products will make up the basis for any made to measure nutritional program. Even if your dietary pattern is already quite balanced, food supplements can still prove a useful complement to your daily diet.

Our drink Forever Aloe Peaches contains 84.3% pure aloe vera gel from the inner leaf of the aloe vera plant and is rich in vitamin C. The delicious taste of peach gives aloe vera gel a summer twist! Forever Aloe Peaches is an ideal addition to a balanced and healthy diet..
Forever endorses the importance of a healthy lifestyle with a varied and balanced diet.
Vital5 Box Forever Aloe Peaches :
4 Forever Aloe Peaches
1 Forever Daily
1 Forever Active Pro-B
1 Forever Arctic Sea
1 ARGI+
1 Brochure Vital5 NL
Please Note: If you are using any kind of medication at this moment or undergoing medical treatment, e.g. if you are diabetic or suffer from a heart condition, we advise you to see a doctor before embarking on any exercise programme with or without food supplements. Forever F.I.T. (C9, F15, Vital5) is not suitable for women who are pregnant, trying to conceive or are breastfeeding.