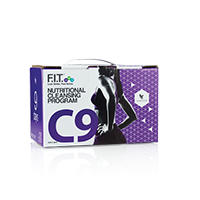 Look better and feel great in just nine days with this expertly-devised calorie-controlled diet and exercise program. Designed to kick-start the F.I.T. program, prepare your body and adjust your mindset, C9 provides the perfect starting point for transforming your diet and fitness habits. Based around Forever's bestselling Forever Aloe Vera Gel, this nutritionally-balanced program will allow you to see real results in just nine days.
Your C9 pack includes:

    Aloe Vera Gel® – 2X – 1 litre bottles
    Forever Lite Ultra Shake® – 1 pouch Vanilla
    Forever Therm™ – 60 tablets
    Forever Fiber™ – 9 sticks
    Forever Garcinia Plus® – 70 tablets


For best results please follow the step-by-step C9 booklet included within your C9 pack.