INFINITE SKIN CARE KIT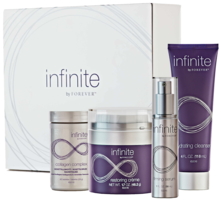 Imagine your skin as a juicy plum - moisturized, taut and smooth. However, as we age our skin loses moisture faster and with environmental factors like pollution and the sun, our skin loses elasticity, luster and firmness. 
While we can't turn back the hands of time, we can restore skin's moisture balance, stimulate healthy collagen levels and reduce the appearance of fine lines and wrinkles - making your skin appear more like a freshly picked plum.