Aloe Sunscreen Spray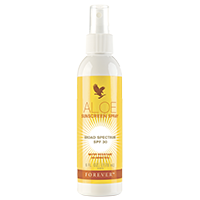 Item #

319
79.25 QAR
Price per bottle - 6 fl oz.
OUT OF STOCK
If you and your family enjoy an active lifestyle, then that means you should always be prepared. Keeping everyone happy will keep you on your toes – so when you're prepared to be in the sun, there's no need to worry.

That's why you should always carry Aloe Sunscreen Spray. It has 30 SPF protection and aloe vera to protect your skin from the aging and damaging effects of the sun, plus the added benefits of extra water resistance to allow you to splash and swim without worry. Just a quick push of a button to spray it on and you'll be ready to go. Healthy summer skin has never been easier!


SPF 30 with full-spectrum UVA & UVB protection

Very water resistant

Convenient spray-on formula

For more information on this product refer to the PDF downloads.
Aloe Sunscreen Spray