Aloe Cleanser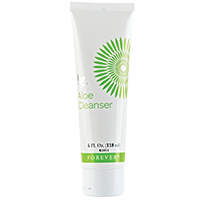 Item #

339
55.75 QAR
Price per unit - 4 Fl. Oz.
OUT OF STOCK
Aloe Cleanser is prepared from hypo-allergenic ingredients to create a light, non-greasy, non-irritating lotion that is pH and moisture-balanced. It is fast and thorough in removing makeup, dirt, and other invisible skin debris. Use it as the first step in preparing your skin for a full Aloe Facial, or simply in the daily, routine skin care program of our Aloe Restorative Beauty Regime. Aloe Cleanser contains just the right amount of Jojoba Oil and water to leave your skin feeling fresh and thoroughly clean without drying!


A gentle, mild cleansing lotion
Perfect for removing makeup

Contains Vitamin C

Hypo-allergenic


For more information on this product refer to the PDF downloads.
Aloe Cleanser