Tripack - Aloe Combo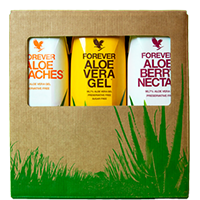 The pack contains 1 piece of Forever Aloe Vera Gel™, Forever Aloe Berry Nectar™ and Forever Aloe Peaches™.

Buy the usual monthly dose of your aloe in this practical and tasteful package. And in addition, you get extra credit credits (valid for Novus Customer and higher positions)!