Fields of Greens™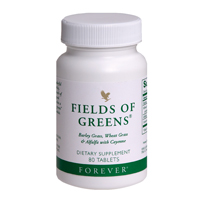 Item #

068
250.72 ZAR
80 tablets
With today's busy lifestyles and the convenience of fast food, we all too often neglect eating nutritionally rich, fresh foods. Forever Living Products provides a simple solution to "convenience eating" in Fields of Greens™. One glance at its ingredient list reveals a cornucopia of nutritional elements, especially formulated to combat these nutrient deficiencies.

Get the antioxidants and Chlorophyll you may be lacking. Fields of Greens™ combines young Barley Grass, Wheat Grass, Alfalfa and added Cayenne Pepper (to help maintain healthy circulation and digestion). We have also added Honey to promote energy.

• Excellent 'greed food' source
• Antioxidant
• Contains Chlorophyll
• Contains Wheat

SUGGESTED USE
Take one tablet, twice a day, preferably before meals, as a dietary supplement.

FieldsofGreens.pdf