Aloe MSM Gel™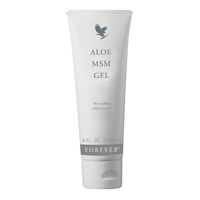 Item #

205
454.88 ZAR
118ml
When you're looking for soothing relief, reach for Aloe MSM Gel™. MSM stands for Methyl Sulphonyl Methane, an organic sulphur found in almost all living organisms. In fact, sulphur is the third most abundant substance in our body.

The other main ingredient in Aloe MSM Gel™ is pure, stabilized Aloe Vera. Aloe MSM Gel™ combines these two powerful ingredients with herbal extracts and other select ingredients for soothing relief anytime. Try Aloe MSM Gel™ today!

• Clear, non-staining formula
• For soothing relief anytime
• Contains pure, stabilized Aloe Vera

DIRECTIONS
Apply liberally and massage into skin areas where needed. Repeat application as needed.

WARNING
Should eye contact occur, flush with water for several minutes. If irritation persists, seek medical advice.
AloeMSMGel.pdf