Forever Lite Ultra with Aminotein - Vanilla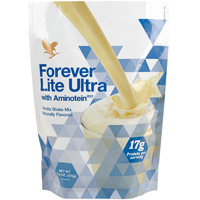 Forever Lite Ultra® with Aminotein® is the perfect addition to your healthy Forever Living lifestyle. Forever Lite Ultra® with Aminotein® integrates new thinking with new technologies to help you maintain a healthy diet and lifestyle.

Two servings a day of Forever Lite Ultra®, prepared with skim milk as directed, supply a full 100% of the Reference Daily Intake (RDI) for the vitamins and minerals shown in the Nutrition Facts section. Forever Lite Ultra® supplies the 18 important amino acids, including essential, non-essential and the branched-chain amino acids.

Forever Lite Ultra® is also an integral part of Forever's Clean 9 and FIT programs. It will help you take charge of your health and put you on the path to effective and sustained weight management!

Vanilla Ingredients:

Soy Protein Isolate, Fructose, Fructooligosaccharides, Dicalcium Phosphate, Natural Vanilla Flavor, Guar Gum, Aminogen®* (Patented Protease Blend), Safflower Oil, Soy Lecithin, Disodium Phosphate, Ascorbic Acid, Sucralose, D-Alpha-Tocopheryl Acetate, Biotin, Beta-Carotene, Niacinamide, Vitamin A Palmitate, Zinc Oxide, D-Calcium Pantothenate, Potassium Iodide, Vitamin D3, Pyridoxine Hydrochloride, Brewer's Yeast, Thiamine Hydrochloride, Riboflavin, Chromium Chloride, Folic Acid, Spirulina,
For more information on this product refer to the PDF downloads.
Forever Lite Ultra