Aloe Vera Gelly™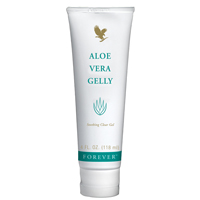 Item #

061
293.12 ZAR
118ml
Historically, a major use of Aloe Vera was to aid in the treatment of minor skin irritations. Many households kept a live Aloe, or "burn plant" for first-aid use. Essentially identical to the Aloe Vera's inner leaf, our 100% stabilized Aloe Vera leaf juice lubricates sensitive tissue safely. Specially prepared for topical application to moisturize, soothe and condition, Aloe Vera Gelly™ is a thick, translucent gel containing humectants and moisturizers. Readily absorbed by the skin, it soothes without staining clothes.

Aloe Vera Gelly™ provides temporary relief from minor skin irritations. It can also be used on the skin prior to ultrasonic treatment, or after electrolysis. Hairdressers use Aloe Vera Gelly™ around the hairline to protect the skin before perming and colouring.

From your bathroom cabinet to your first-aid kit, and from the kitchen to the campsite – Aloe Vera Gelly™ is an ideal companion for skin that needs a little extra care.

• Quickly soothes the skin
• Does not stain clothing
• Ideal for any first-aid kit

DIRECTIONS
Thouroughly cleanse skin before liberally applying Aloe Vera Gelly™. Repeat application as required.

AloeVeraGelly.pdf