Aloe Heat Lotion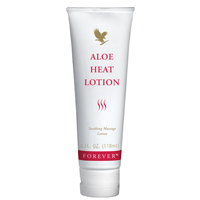 Item #

064
279.20 ZAR
118ml
After a long, active day, we all know the misery of tired, aching muscles. Now you can stretch no further than to grab a tube of Aloe Heat Lotion!

This rich emollient lotion contains deep heating agents to make it the ideal massage companion for tired muscles and dry skin. Aloe Heat Lotion is a pH-balanced, lubricating lotion designed for a soothing, relaxing massage. The deep penentrating power of Aloe Vera will help your muscles and skin forget the cares of the workday. Especially good after sports or hard workouts! 

• An ideal massage lotion
• Soothing relief after work, sports or working out
• Suitable for children and adults

DIRECTIONS
Apply liberally and massage into skin as needed.

WARNING
Avoid contact with the eyes. Should contact occur, flush with water for several minutes.
For more information on this product refer to the PDF downloads.
AloeHeatLotion.pdf