Forever Kids™ Chewable Multivitamins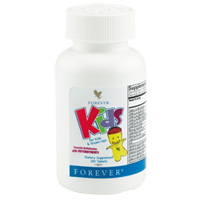 Item #

354
292.32 ZAR
120 tablets (chewable)
Give your kids the nutrients they need each day with Forever Kids™ Chewable Multivitamins with Phytonutrients. These fun and delicious, Grape flavoured multivitamins provide both adults and growing kids ages 2 and older with the vital vitamins, minerals and phytonutrients they may be lacking.

Iron is a new addition to Forever Kids™ Chewable Multivitamins for its role in immune support and cognitive development. Iron, a commonly deficient nutrient, also supports overall health.

Phytonutrients are highly desirable plant nutrients found in vegetables and fruits. Our new and improved formula has more phytonutrients from a new, improved blend of fruits and vegetables. The result is a multivitamin that tastes great, is fun to eat and complements the range of other supplements that Forever Living offers!

Formulated without artificial colours or preservatives, the phytonutrient base is taken from such nutritious foods as Carrots, Beets, Broccoli, Spinach, Blueberries, Apples, Cranberries, Tomatoes and Strawberries. You and your kids will love the natural Grape flavour, and you'll love the peace of mind!

• No artificial colours or preservatives
• Chewable tablets
• Phytonutrient base taken from the finest raw foods including Broccoli, Spinach, Beets and Carrots
• For more Supplement Facts see page 2 of the downloadable .pdf file

SUGGESTED USE
For children over 4 and adults, take four tablets daily as a dietary supplement. For children 2 to 4 years old, take two tablets per day under adult supervision.
ForeverKidsNEW.pdf