Start Your Journey Combo Pak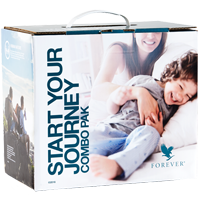 Starting your own business can be difficult, but with the Start Your Journey Combo Pak, you will have all you need feel confident and start your journey strong. Not only do you have all the products you need to get a taste of Forever, but also you have the information in First Steps to Manager to help you build your business from day one.

What's included:

Aloe Vera Gel
Aloe Lips (2)
Forever Bright Toothgel
Aloe Berry Nectar
Aloe Hand Soap
Aloe Propolis Creme
Aloe Vera Gelly
Aloe Moisturizing lotion
Aloe Heat Lotion
Aloe Ever-Shield
Aloe-Jojoba Shampoo
Aloe-Jojoba Conditioning Rinse
Forever Daily
ARGI+ (30-day supply) Pouches
Lavender Essential Oil
Forever Lite Ultra w/Aminotein Vanilla
Product Catalog (Single)
First Steps to Manager book


*Products may vary due to availbility.