Forever Pro X²® - Chocolate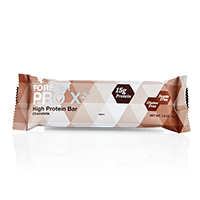 Item #

519
42.92 USD
10 bars per box
Coming Soon!
Sugar and gluten free
15 grams of protein
Two delicious flavors: Cinnamon or Chocolate
Forever Pro X²® comes in two mouthwatering flavors – Chocolate and Cinnamon. Both bars include Vitamin A, Calcium and Iron to keep your body fueled. A special fiber also doubles as a prebiotic to help your digestive system.
Each bar is packed with 15 grams of protein from three types of protein: soy protein isolate, whey protein concentrate and whey protein isolate. This tasty snack is the perfect way to build muscle and help you on your journey to looking and feeling better.    For more information on this product refer to the PDF downloads.
ProX2