Start Your Journey Skincare Pak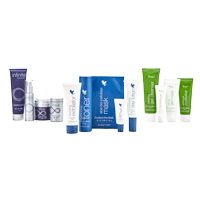 Starting your own business can be difficult, but with the Start Your Journey Skincare Pak, you will have all you need to feel confident and start your journey strong. Not only do you have all the skincare products you need to get a taste of Forever's incredible facial skincare line, but also you have the information in First Steps to Manager to help you build your business from day one.*

Contents:
553 - INFINITE BY FOREVER KIT (1)
557 - PROTECTING DAY LOTION (1)
559 - SMOOTHING EXFOLIATAOR (1)
560 - BALANCING TONER (1)
561 - AWAKENING EYE CRÈME (1)
609 - SONYA DAILY SKIN CARE SYSTEM (1)
616 - BIOCELLULOSE MASK (1 single sachet)

*Pak contents subject to change.